The more we drank boba pearls beverage – be it brown sugar boba pearls fresh milk or boba pearls with cheese tea drink, the more we get addicted to it. This got me thinking about how could we reinvent an ongoing trend? I come to think that is it possible that we infuse fruits into boba pearls? Well, let's give it a go and try fresh fruits boba pearls!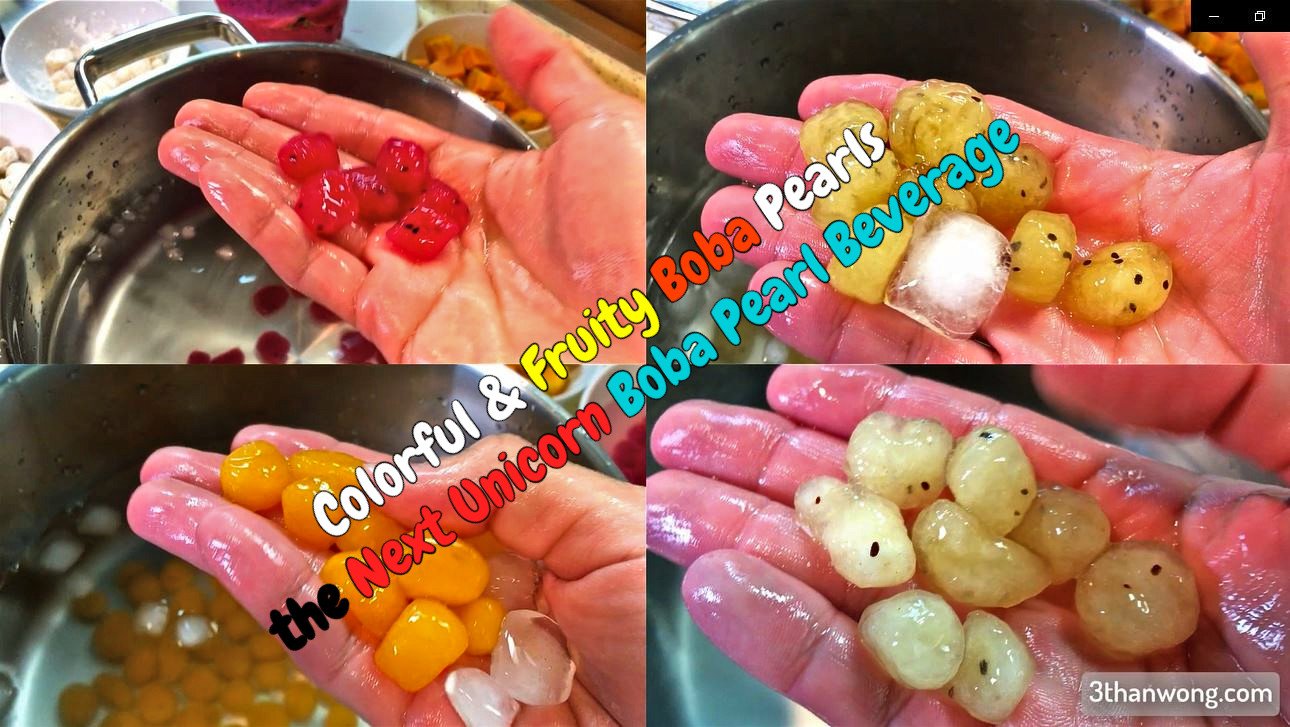 Are they the next Unicorn Boba Pearls Recipe beverage? 
Since the process of making a regular brown sugar boba pearls is simply using brown sugar as the liquid to activate the tapioca starch. So from there, we know that the formulation to boba pearls is simply
flavored liquid combine with tapioca starch and then braise them in its own flavored sweetened liquid.
By having that in mind, I begin working on how should I create the flavored liquid? And to raise the benchmark to another level, I thought let's make chewy boba pearls with fruit bits in them!
Imagine Boba Pearls with Fruit Bits in them!
Hence I come to think that I will need to make a fruit puree, also I will need to play around a little bit with the colors, so the drinks would look vibrant while refreshing! So I went on to around local traders market hunting for fruits that are suitable for its purpose.
Some of the fruits are delicious, but would not be able to make the boba pearls look vibrant. From my fruits shopping, I had come to pick red dragon fruits, orange flesh taro roots, green kiwi, and yellow kiwi. 
p/s : I think we can even use vegetables, think cucumber!
Is Boba Pearls Innovation at its Peak?
Currently, around the globe is crazed with boba pearls drinks and it has become a global trend. People getting addicted to it, well in a happy way. The popularity of boba pearls has spread across Europe, Germany in particular and are now converting the young people across North America as well.
Manufacturing Colorful Fruity Boba Pearls?
Currently, I do not think there is any manufacturer that is willing to produce them with real fresh fruits as it will be;
Not cost-effective – Using fresh fruits is going to be expensive.
Labor intensive – the process of extracting the flesh of the fruits.
If it is going to happen, I believe plenty of coloring and addictive will be added.
But why wait? Now you start following my recipe, and simply make your own colorful fruity boba pearls at home!
Colorful and Fruity Boba Pearls Recipe could be the next Unicorn Boba Pearl Beverage! Previously I did a video on how to make tapioca boba pearls recipe at home and some have been telling me that their dough end up becoming too stick and could not work on the dough to roll them. So just recently I've got some extra time and thought that I should improve the recipe to make it failsafe, so anyone can make it at home with ease. Perhaps adding some cheese foam to it would be great too! (Cheese Tea Recipe here
How to Make Boba Pearls with Fruits! Best Boba Pearls Recipe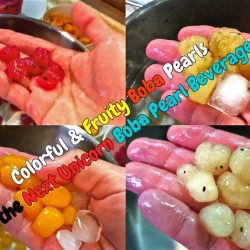 Use vibrant color fruits for exciting colorful boba pearls. I have revised this recipe, an improvement over the previous recipe, simplifying the process. The key is to not overcook the tapioca dough but also cooking them enough to the point where you can work on the dough!
Ingredients
Boba Pearls
1

Cup

Fresh Fruits of your choice

(As long as can be pureed )

1

Cup

Tapioca Flour

1/2

Cup

Sugar

1/2

Cup

Water

(Hot)

1/2

Cup

Tapioca Flour

(to flour water table and pearls)
Braising Boba Pearls
2

Cups

Fresh Fruits of your choice

(As long as can be pureed )

3/4

Cups

Sugar

(reduce or add sugar, if preferred)

1

Cups

Water

(Hot)
This is a free content
I have to run Ads
Instructions
Making Raw Boba Pearls Dough
Remove the skin of the fruit if any.

Chop fruits into tiny pieces or blend them into puree.

Into a pot, add chopped fruits, 1 cup of tapioca flour, sugar and hot water.

Cook them over lowest heat. As you cook them, stir consistently to mix and prevent bottom from burning.

Cook until it comes together and form a stick dough.

Add another 1/2 cup of tapioca flour and fold the flour into the dough.

Once the flour are folded in, generously flour a clean working surface as well as your hands.

Transfer the dough onto the floured surface.

Roll the dough into an elongated shape and cut them into several smaller pieces.

Then roll the smaller dough into a smaller roll about the diameter of a chopstick.

Then cut the at about 1 cm in length and roll them into round shape.

Transfer the round uncooked boba pearls into a container and flour them again to prevent them from sticking to one another.
Cooking Boba Pearls
With a pot, add enough of water to boil the uncooked boba pearls.

Only add the uncooked boba pearls when the water are at boiling point.

After that, transfer the cooked boba pearls into ice water to stop the cooking and set aside.
Braising Boba Pearls
Into a pot, add chopped fresh fruits, sugar and hot water.

Bring it to a boil, add boba pearls in.

You should achieve a thick gooey jam like consistency.
Video
Notes
Serving Suggestion
Sweet Potatoes Boba Pearls with Coconut Milk – Similar to bubur cha cha.
Red Dragon Fruit Boba Pearl with Fresh Milk
Kiwi Boba Pearl with Oolong Tea
The possibility to mix and match is limitless. Think of traditional dessert, it might be able to turn it into a boba beverage!
Tapioca is gluten-free, commonly uses as wheat substitute for a gluten-free diet 
Nutrition
Calories :
337
kcal
Carbohydrates :
87
g
Sodium :
19
mg
Potassium :
26
mg
Fiber :
1
g
Sugar :
55
g
Iron :
1
mg
*These Nutritional Values have not been evaluated by the Food and Drug Administration