The primary ingredients of Gan Chao Niu He (干炒牛河), aka Beef Chow Fun and Beef Noodle Stir Fry, are flat rice noodles, in other words, hor fun, which is otherwise called "shahe fen", as this dish invented in the town of Shahe in Guangzhou. As the name speaks for itself – flat rice noodle – is a wide and flat rice noodle that is cut into a long elongated shape, think "Cheong Fun".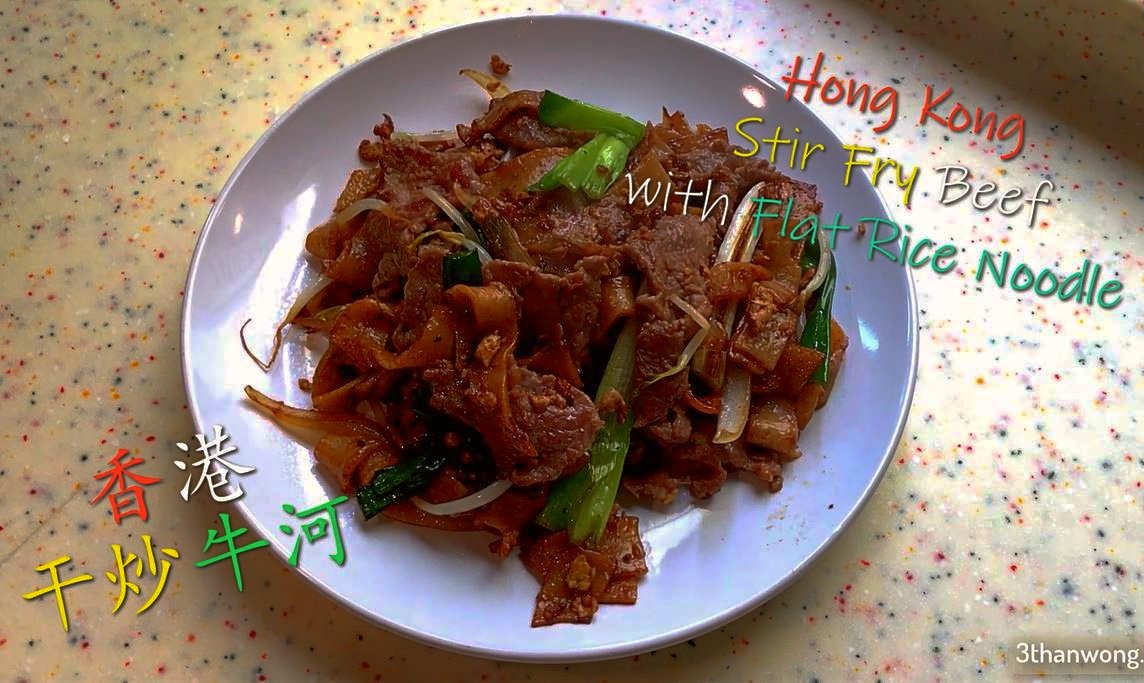 Components to a Plate of Beef Noodle Stir Fry
Beef chow fun is produced using sautéing beef slices, hor fun (flat rice noodles), and bean sprouts. It is a staple Cantonese dish and regularly found in cafes eateries in Guangdong, Hong Kong, and abroad, especially Hong Kong style cafe aka Char Chan Teng.
The Legend of Stir-Fry Noodle – Chow Fun
It was said to take place during World War II, a Cantonese man, Mr. Hui was about to be killed by a Japanese commander as the commander was hungry. Since it is a curfew, he was unable to purchase the necessary ingredient to make the usual gravy hor fun, so he went ahead and cook a stir fry noodle instead. Since then stir-frying noodles became a common noodle dish.
Key Elements of Hong Kong Stir Fry Beef Noodle
A good plate of Gan Chao Niu He is where the noodles and beef slices are full of "Wok Hei" (charred and smoky flavor) of the wok. It is done by cooking over a high flame and stir continuously but not breaking hor fun apart. 
The entire plates of noodles have to be dry with right amount of oil, aromatic and well balance with the portion of beef and noodles.
My Version of Beef Noodle Stir-Fry
Since I love a plate of well stir-fried beef with ginger and spring onion, I combine both the elements from Beef Chow Fun and Stir-Fried Beef Ginger and Spring Onion.
This brings the entire dish to new heights, check it out below and watch how did I do it.
Gan chao niu he, literally translated as "dry fry beef flat rice noodle", the proper term for dry fry is stir-frying. This dish rose to frame in Hong Kong, a must have comfort food whenever you visit Hong Kong. Succulent slices of beef pair with silky smooth flat rice noodle that are fried over high heat gives this dish the charred smokey flavor! I had all the parts break down so you too can cook a Hong Kong standard "Gan Chao Niu He" at home!
Authentic Hong Kong Stir Fry Beef Hor Fun Recipe - Gan Chao Niu He
Be sure to get the beef tenderloin for this dish for succulent slices of beef, and oh yes! Make sure the flat rice noodle that you get is suitable for stir-frying, not the soup type. *wink*
Ingredients
Beef Slice & Marinate
300

g

Beef Tenderloin

1/2

tsp

Salt

1/2

tsp

Sugar

1

tsp

Corn Starch

(optional potato starch)
Sauce Mixture
3

tbsp

Soy Sauce

1

tbsp

Oyster Sauce

1

tbsp

Thick Soy Sauce
Other Ingredients
500

g

Flat Rice Noodle

1/4

pcs

Onion

(Sliced)

2

stalk

Spring Onion

1

handful

Beansprout

2

nos

Egg

As Needed

Cooking Oil

To taste

Salt

(if needed)
This is a free content
I have to run Ads
Instructions
Marinate Beef
Thinly sliced the beef to about 2-3 mm thickness.

Add salt and sugar, as you begin mixing them, add water a little at a time.

Continue mixing and gradually add water until the slime begin to thickened, stop adding water at this point.

There should not be any excessive water leaking from the meat.

Let it marinate as you prepare the other ingredients.
Stir Frying
Preheat pan/wok with 2 tbsp of cooking oil to high heat.

Add marinated beef slices and spread it open.

Sear beef to medium well and set aside.

Without cleaning the pan/wok, add 2 tbsp of cooking oil and bring it to high heat.

Add sliced onion and thoroughly stir fry.

Add flat rice noodle and thoroughly stir fry.

Add flavoring mixture and stir fry to mix well.

Add spring onion and beansprout and stir fry to mix well.

Taste the dish to check if it is salty enough, otherwise season with some salt at this point.

Add seared beef back in and stir fry to mix.

Remove from pan/wok and serve.
Video
Nutrition
Calories :
677
kcal
Carbohydrates :
90
g
Protein :
23
g
Fat :
23
g
Saturated Fat :
9
g
Cholesterol :
72
mg
Sodium :
1924
mg
Potassium :
378
mg
Fiber :
1
g
Sugar :
1
g
Vitamin A :
80
IU
Vitamin C :
2
mg
Calcium :
16
mg
Iron :
3
mg
*These Nutritional Values have not been evaluated by the Food and Drug Administration