Let me get this straight, it is confusing – lard, lardon, pork crackling, crunchy pork fats? Here is what they stand for; lard is the liquid fats of animal fats, lardon is a cube or strip of pork fats, pork crackling has the same meaning as crunchy pork fats, and they both means rendered pork lardon that is crispy and crunchy.
Why the variation of the terms? Well, it is just most local Malaysian would call them pork crackling or crunchy pork fats, but I will have to briefly clarify this, so if you are not from Malaysia could understand the context I am about to explain next.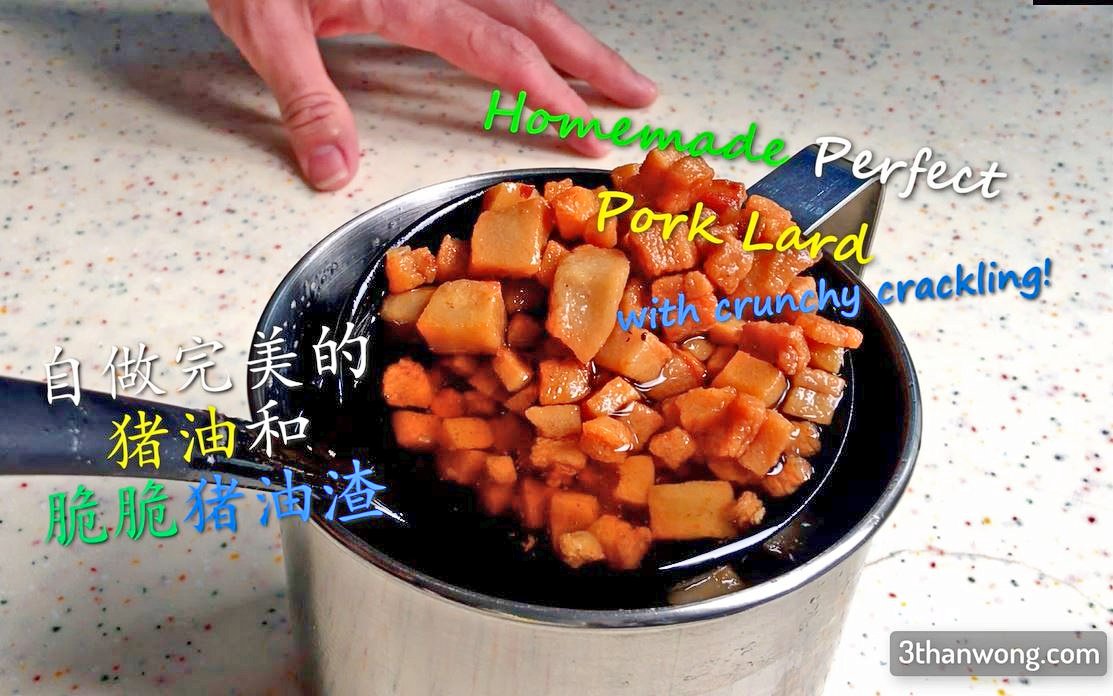 Homemade Pork Lardon that does not stench but stays crunchy? Read on!
Often I heard from people saying that the lardon they made has some weird smell, somewhat stench very quickly. Well, in how to make a lardon guide, I will be sharing how my dad's Chef Keong used to render his lardon as well as making crunchy pork crackling that his customer absolutely loves them!
Well back in the days when my dad still running his restaurant, very often guests will come walking to the kitchen with a bowl on their hands, a little shy-ish, and would say, "Hey, can I have some pork crackling?"
I was not knowing why do they like our pork crackling so much. As time passes, I come to notice that indeed many out there are not making this simple pork lard right.
Secrets to Making the Best Lardon and Pork Crackling!
To render a good lardon, you will need good quality fats, be it pork, chicken, beef, or any other animal fats. The selection of parts of fats is actually rather important. There are always two types of fats;
One type does not melt away when you render them
The other type where most of it will melt away when we render them.
If the wrong part of fats is used, the lard will end up looking bad, reduces in size, and lastly, they do stench. Below is a picture to briefly illustrate the type of fats.
Best Method in Rendering Lardon for Best Pork Lard
After all these years of tasting, testing, and observing, the best method to render pork fat which will give you aromatic pork lard, as well as crunchy pork lardon, is;
Select the right part of fats,
Blanch them to remove the stench also to keep them in shape,
Cut them into cubes,
Render them until  you fully remove all the water content,
Add some aromatic root vegetables.
Check out the recipe below to find out what root vegetables to add!
Pork lard has been used in Chinese Cuisine for many years. In traditional Chinese Cuisine, pork lard is one of the common fats used. Even in current times, you could easily find pork lard in almost every household in China. The pungent aromatic flavor from pork lard brings back a lot of old memories, pork lard mixes white rice, or a plate or pork lard mix noodles. So simple yet so good. However, not everyone knows the important secret to make good pork lard that would not stench even after you keep it for a month and the killer is the crunchy pork fat cracklings! Here is how my dad made them and today I am sharing it with you guys!
Homemade Pork Lard with Crunchy Pork Cracklings!
The important thing to take note to render good pork lard is to buy fresh pork fats! Talk to your local butcher and make sure to tell him that you needed the pork fats suitable to render lard.
Ingredients
500

g

Pork Fats

2

knob

Ginger

(with skin on and crushed)
This is a free content
I have to run Ads
Instructions
Clean and trim off any meats on the fats.

Blanch the pork fats for 5 minutes.

Rinse blanched pork fats until can handle with hands.

Cut pork fats into 1cm cubes.

With a frying pan, fry pork fats over high heat.

Stir occasionally to prevents burn.

As the fats begin to emulsify into lard, add crushed ginger.

When the fats begin to turn brown, lower the heat to low heat.

Continue frying until the fats has become completely golden brown and the pork fats does not bubble anymore.

If you have any left over pork lard, add them in at this step.

Otherwise, skip and go to step number (12).

Switch off the heat and remove ginger.

Transfer pork lard into a container alongside with the fats cracklings.
Video
Notes
Lightly reheat them once in awhile to keep them fresh.
Nutrition
Calories :
1727
kcal
Carbohydrates :
1
g
Protein :
1
g
Fat :
195
g
Saturated Fat :
75
g
Cholesterol :
180
mg
Sodium :
1
mg
Sugar :
1
g
*These Nutritional Values have not been evaluated by the Food and Drug Administration