♥ Like this? Spread the love ♥
Yu Xiang Rou Si is a Sichuanese stir-fry shredded pork dish, and the main ingredients are pork and Yu Xiang Sauce. It is slightly sour, salty, sweet, hot, and tangy. Though the name itself mentioned fish sauce (Yu Xiang means fish-flavored), the seasoning has nothing to do with fish (know more the sauce here). This Yu Xiang Rou Si goes well with rice, noodle, or wraps!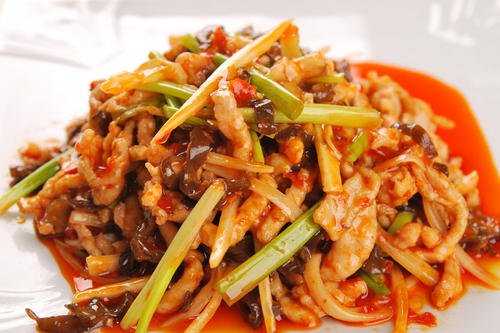 Here is another way of how the Sichuanese would use their Yu Xiang Sauce, braising it with shredded pork but I prefer a larger chunk of meat, so I made this recipe with pork strips instead! Believe it or not, the same sauce but a different flavor in contrast to the Yu Xiang Eggplant Recipe. Check it out below to find out the differences in ingredient usage!
Sichuan Yu Xiang Rou Si Recipe
One of the common usages of Yu Xiang Sauce is to cook with shredded pork, The combination of shredded pork, yu xiang sauce, and bamboo shoots will produce a very interesting flavor which is totally different than using eggplant.
Ingredients
300

g

Pork Loin

150

g

Bamboo Shoots

100

g

Red Chili

2

tbsp

Sichuan Yu Xiang Sauce

1

tbsp

Soy Sauce

3

tbsp

Cooking Oil

Corn Flour

(or other thickening agents, eg. potato flour)

Spring Onion

(for garnish)

400

ml

Water
This is a free content
I have to run Ads
Instructions
Preparation
Cut pork loin into strips

Cut bamboo shoots into julienne and soak in a bowl of water.

Remove seed from red chili and cut into julienne.

Chop spring onion and set aside in a bowl.
Cooking
Blanch bamboo shoots for about 1 minute. Strain and set aside.

Sear pork strips to brown edges and set aside.

Add Yu Xiang sauce and julienne chili into the pan and thoroughly stir-fry.

Then add blanched bamboo shoots.

Bring to a boil and braise until it begins to thickens.

Lightly thicken with corn starch.

Transfer to a plate and garnish with chopped spring onion. Serve.
Video
Notes
Tip
The original Sichuan Yu Xiang Pork Strips are thin strips, but I personally prefer a large piece of meat. So I cut it into large strips.
Whenever you are incorporating thickening agent to any liquid, make sure to incorporate at high heat and keep mixing/whisking/stirring to evenly distribute the thickening agent and high heat ensure the thickening agent cook perfectly.
Nutrition
Calories :
423
kcal
Carbohydrates :
7
g
Protein :
37
g
Fat :
28
g
Saturated Fat :
4
g
Cholesterol :
95
mg
Sodium :
596
mg
Potassium :
801
mg
Fiber :
2
g
Sugar :
4
g
Vitamin A :
476
IU
Vitamin C :
73
mg
Calcium :
27
mg
Iron :
2
mg
*These Nutritional Values have not been evaluated by the Food and Drug Administration