Fried Chicken is one of the best all-time favorite food throughout the world. Whenever I go to the night market, one of the usual food that I would get is a fried chicken, here I will be sharing with you – how to make a fried chicken recipe similar to the famous Taiwanese Hot Star Fried Chicken!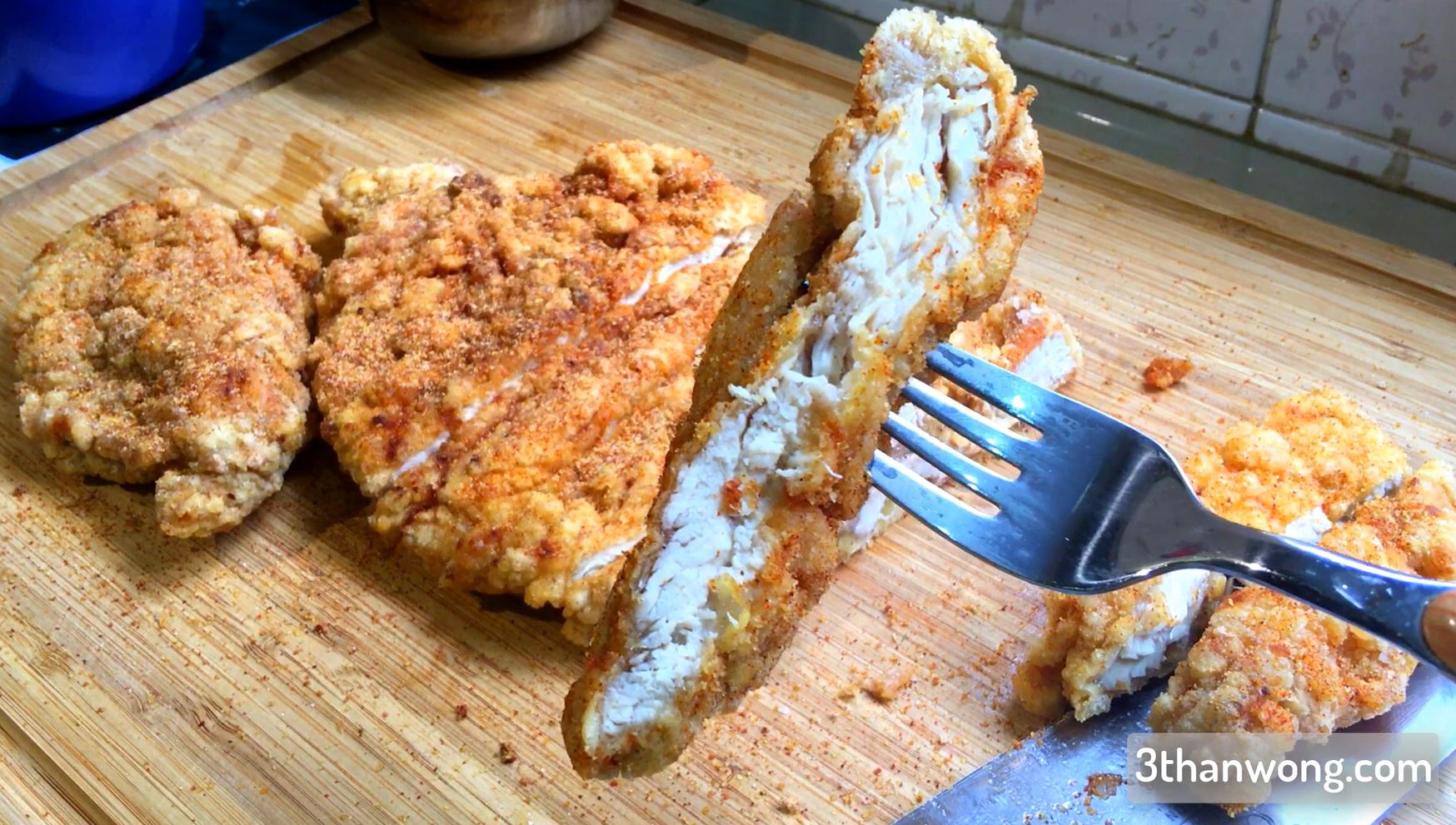 Taiwanese Fried Chicken, What's the Differences?
Taiwanese Fried Chicken is different than the regular fried chicken that they come in crunchy huge flat pieces of chicken seasoned with their blend of spices. One of the ingredients that make the crunchy coating unique is tapioca flour (also the same ingredient to make boba pearls) as you can see with your naked eyes that the appearance of the outer layer is different than the regular fried chicken. Using tapioca flour simply makes the coating thicker and, everyone loves that layer of crispy flour, isn't it?
Huge piece of Taiwanese XXL Fried Chicken that everyone loves is actually pretty simple and you too can make it at home! During my stay at Taipei, I spend many nights visiting their night market, literally everywhere, and I would observe how they operate their fried chicken stall, remembering all the steps, and now I am sharing them with you below!
Fried Chicken Recipe Taiwanese XXL Hot Star Fried Chicken
大块的台湾XXL炸鸡大家都爱吃,其实很简单,你也可以自己在家做!
配料
For Chicken
1

件

Chicken Breast

1

茶匙

盐

1/2

茶匙

糖

1

茶匙

Five Spice Powder

to absorb

水

(add 1 tbsp at a time)

2

nos

Egg

1

杯

木薯粉

1

杯

Potato Flour

炸油
调味粉混合料
1

茶匙

盐

1

汤匙

Garlic Powder

1

茶匙

Paprika Powder

1

茶匙

Chili Powder
这是一篇免费的文章
我必须投放广告
步骤
Cut chicken breast into a butterfly. Use a meat mallet to flatten the chicken. OR use the spine of the knife and gently break the meat fiber then use a rolling pin to flatten it.

Dissolve 1 tbsp of water with sugar, salt, and five spice powder.

Add chicken breast into the marinade.

Once the water is absorbed, add 1 tbsp of water and gently massage it for the water to be absorbed. Repeat until it begins to slime. Stop adding water. Marinate for 30minutes or more.

腌制完成后,将鸡蛋放入单独的盘子/碗中打蛋,将木薯粉和土豆粉过筛后放入另一个平盘中。

将腌制好的鸡胸肉浸泡在鸡蛋中,然后用过筛的面粉擦干后涂抹在鸡胸肉上。

Preheat frying oil to high heat (150 – 160 °C ), gently place coated chicken breast into the hot oil. Deep fry for 6 – 8 minutes while occasionally moving it and turning it over.
视频
营养
卡路里 :
229
大卡
碳水化合物 :
58
克
蛋白 :
1
克
脂肪 :
1
克
饱和脂肪 :
1
克
胆固醇 :
4
毫克
钠 :
2347
毫克
钾盐 :
96
毫克
纤维 :
1
克
糖 :
1
克
维生素A :
297
IU
维生素C :
1
毫克
钙 :
13
毫克
铁 :
2
毫克
*这些营养价值没有经过食品和药物管理局的评估。