Let me get this straight, it is confusing – lard, lardon, pork crackling, crunchy pork fats? Here is what they stand for; lard is the liquid fats of animal fats, lardon is a cube or strip of pork fats, pork crackling has the same meaning as crunchy pork fats, and they both means rendered pork lardon that is crispy and crunchy.
Why the variation of the terms? Well, it is just most local Malaysian would call them pork crackling or crunchy pork fats, but I will have to briefly clarify this, so if you are not from Malaysia could understand the context I am about to explain next.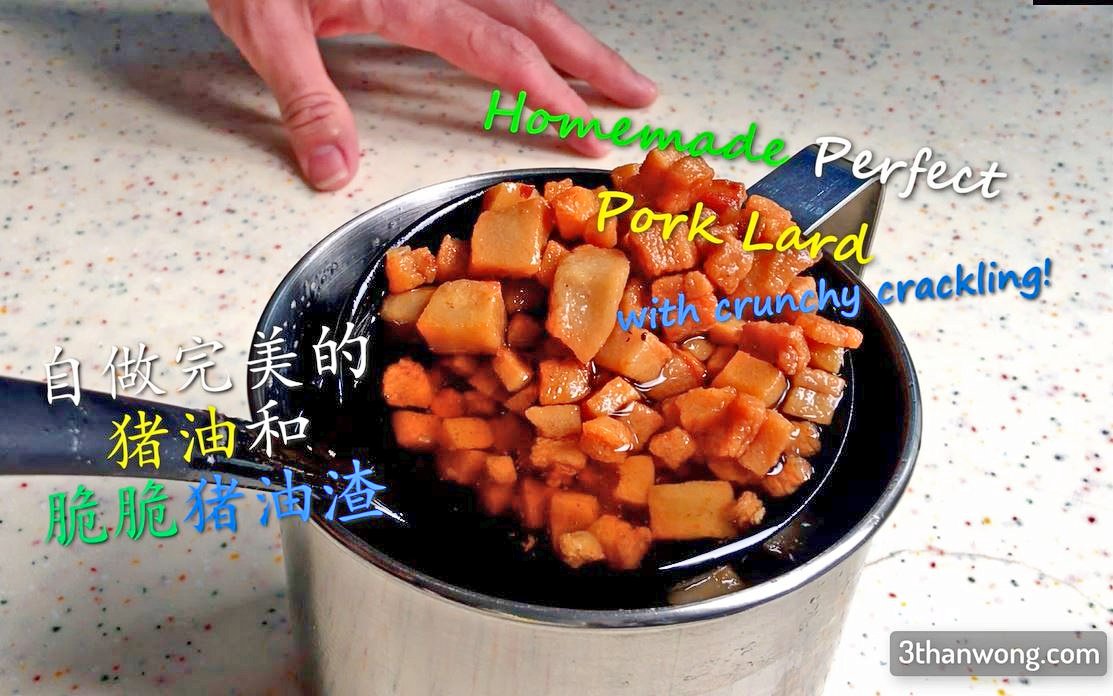 Homemade Pork Lardon that does not stench but stays crunchy? Read on!
Often I heard from people saying that the lardon they made has some weird smell, somewhat stench very quickly. Well, in how to make a lardon guide, I will be sharing how my dad's Chef Keong used to render his lardon as well as making crunchy pork crackling that his customer absolutely loves them!
Well back in the days when my dad still running his restaurant, very often guests will come walking to the kitchen with a bowl on their hands, a little shy-ish, and would say, "Hey, can I have some pork crackling?"
I was not knowing why do they like our pork crackling so much. As time passes, I come to notice that indeed many out there are not making this simple pork lard right.
Secrets to Making the Best Lardon and Pork Crackling!
To render a good lardon, you will need good quality fats, be it pork, chicken, beef, or any other animal fats. The selection of parts of fats is actually rather important. There are always two types of fats;
One type does not melt away when you render them
The other type where most of it will melt away when we render them.
If the wrong part of fats is used, the lard will end up looking bad, reduces in size, and lastly, they do stench. Below is a picture to briefly illustrate the type of fats.
Best Method in Rendering Lardon for Best Pork Lard
After all these years of tasting, testing, and observing, the best method to render pork fat which will give you aromatic pork lard, as well as crunchy pork lardon, is;
Select the right part of fats,
Blanch them to remove the stench also to keep them in shape,
Cut them into cubes,
Render them until  you fully remove all the water content,
Add some aromatic root vegetables.
Check out the recipe below to find out what root vegetables to add!
猪肉猪油在中国烹饪中的应用已经有很多年了。在中国传统美食中,猪油是常用的油脂之一。即使在现在的中国,几乎家家户户户都能轻易找到猪油。猪猪油的辛辣香味,勾起了很多人的回忆,猪肉猪油拌白米饭、猪油拌面、猪油盘子、猪油拌面,简单而又好吃。如此简单,却又如此美味。但是,不是每个人都知道,要想做出好吃的猪油拌白米饭,保持一个月也不会发臭,最重要的秘诀就是猪油脆脆的猪油酥!下面是我爸爸做的猪油拌白米饭的做法。以下是我爸爸的制作方法,今天就和大家分享一下!
自做完美猪油和脆脆的猪油渣
注意要使猪油变好,重要的是要购买新鲜的猪肉脂肪! 与您当地的肉店商谈,并确保告诉他您需要适合用来制作猪油的猪肉脂肪。
这是一篇免费的文章
我必须投放广告
步骤
当脂肪开始变成棕色时,将火力降至小火,再将其转为小火。

将猪肉猪油与脂肪饼干一起放入容器中,与脂肪饼干一起放入容器中。
视频
营养
卡路里 :
1727
大卡
碳水化合物 :
1
克
蛋白 :
1
克
脂肪 :
195
克
饱和脂肪 :
75
克
胆固醇 :
180
毫克
钠 :
1
毫克
糖 :
1
克
*这些营养价值没有经过食品和药物管理局的评估。