I always love a good plate of stir-fried shredded potato whenever I visit a restaurant in China, back then before I had the chance to visit China, I never knew potato can be made in such way, still maintaining its crunchiness even after having them blanched and stir-fried. I learnt the secret to making them crunchy during my stay as a consultant in Guangzhou, China. Here I am sharing the secret to make a good stir-fry shredded potato!
Crunchy Potatoes Without Deep Frying, How?
Well, potato contains starch, starch is the component that makes them become soft after we cook them. So we will need to remove the starch from the potato, leaving only fiber in a potato and this makes them crunchy. Luckily, this is not rocket science food where you some technical equipment to make. You will simply need a bowl of water to soak the shredded potatoes to allow the starch to be released into the water.
After soaking them for a while, you will notice the water becomes murky, those are starch and that is what you want to remove.
Stir fry Shredded Potatoes is a common appetizer across China. When I was first introduced to this dish, I was wondering what makes this potato dish so special? To my surprise, the shredded potatoes so so crunchy and appetizing. Hence I went on to discover the secret behind this looks-simple appetizer. Watch this video below to find out how to cook yourself a Chinese appetizer!
Stir-Fried Shredded Potato (Tu Dou Si)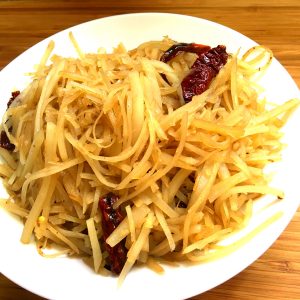 I learnt this shredded potato recipe when I was a consultant in Guangzhou. Crunchy shredded potato, and very appetizing flavor. Make sure to allow the potato to soak for a while to let the starch to be release.
配料
400

克

Potatoes

30

克

Dried Chili

(adjust to your preference)

1

汤匙

Soy Sauce

1

汤匙

Black Vinegar

(use unsweetened, like Chen Vinegar or Zhejiang Vinegar)

1

茶匙

盐

4

汤匙

食用油
这是一篇免费的文章
我必须投放广告
步骤
Preparation
Wash, peel, and shred potatoes into thin strips.

Soak shredded potatoes into a bowl of water for at least 1 hour or more.

Wash dried chili under tap water to remove dust.

Strain shredded potatoes and leave aside.
Cooking
Bring 1 liter of water to boil.

Blanch julienne potatoes for about 2 minutes.

Strain the blanched shredded potatoes and put aside.

Pre-heat pan with cooking oil.

Add in dried chili and toss it to aromatic.

Add shredded potatoes into the pan.

Add in soy sauce, black vinegar, and salt to season.

Stir-fry over high heat while mixing all the seasoning well.
视频
笔记
提示
The purpose of soaking potatoes in water is to remove the starch from the potatoes' fiber. The longer the potatoes are soak, the more starch are removed. Hence the more starch is removed, the crunchier they are.
营养
卡路里 :
305
大卡
碳水化合物 :
31
克
蛋白 :
4
克
脂肪 :
19
克
饱和脂肪 :
1
克
钠 :
1128
毫克
钾盐 :
761
毫克
纤维 :
6
克
糖 :
5
克
维生素A :
2649
IU
维生素C :
29
毫克
钙 :
21
毫克
铁 :
2
毫克
*这些营养价值没有经过食品和药物管理局的评估。