This Easy Casserole Chicken was originally a Chinese casserole recipe that I adjusted and fine-tuned so anyone can cook at home with just their pan or work, but with the same flavor outcome. Literally almost anywhere in the world, you can get these ingredients, since they are so easily available, here is my recipe for an Easy Casserole Chicken!
Simplifying The Traditional Chinese Casserole Chicken
I had this Chinese Casserole Chicken a lot when I was being a consultant back then in Guangzhou, China. Pieces of chicken that are seared to crispy edges, flavorful, with a light flavor of spices keep me looking for more. However, after I had left Guangzhou I never had the chance to have anything similar in Malaysia.
So I thought, let's make one myself, without using a casserole, since a pan is definitely a lot more convenient than using a casserole at home.
p/s : I can't take very spicy food, so I replace the chili peppers with capsicum instead.
This recipe is usually cooked with a casserole. Traditionally, in China, it is called Casserole Chicken 砂锅鸡. But not everyone has the luxury of getting-everything-you-want in their kitchen, so I have slightly simplified the recipe and make it possible with a pan or a wok, so everyone can cook it at home!
Easy Chicken Casserole (With A Pan Recipe)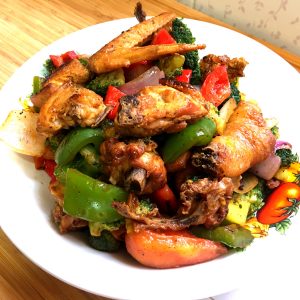 This is a very easy chicken casserole recipe where I modified it to cook with a pan. However, you also can use this same recipe on a casserole instead of a pan or a wok.
Ingredients
600

g

Chicken

(chopped)

1

pcs

Green Capsicum

1

pcs

Red Capsicum

2

pcs

Tomato

2

pcs

Onion

1/2

pcs

Broccoli

1

tbsp

Soy Sauce

2

tsp

Spice Bake Mix

1/2

ts

Salt
This is a free content
I have to run Ads
Instructions
Preparation
Clean and chop chicken into bite-size.

Season chicken with salt and let it marinate as you prepare the vegetables.

Cut the other vegetables into bite-size.
Cooking
Bring 500ml water to boil.

Blanch capsicum and broccoli separately. Strain and put them aside.

Preheat a pan with cooking oil, sear chicken to crisps.

Remove chicken from pan and put aside.

Over high heat, add in onion and roughly stir fry.

Add in tomatoes and then pour in soy sauce around the pan for aromatic.

Add fried chicken into the pan and roughly stir the mixture.

Add in broccoli and capsicum.

Add in spice bake mix evenly around the mixture.

Over high heat, keep stirring with your spatula and make sure the bottom is not burned.

Stir-fry until dry and serve.
Video
Notes
Tips
Stir-frying is a fast pace cooking technique, it is necessary to make sure all the food are well cooked.
Hence some ingredient would require a step to ensure the final product are all well cooked.
Nutrition
Calories :
211
kcal
Carbohydrates :
1
g
Protein :
19
g
Fat :
14
g
Saturated Fat :
4
g
Cholesterol :
72
mg
Sodium :
790
mg
Potassium :
194
mg
Sugar :
1
g
Vitamin A :
134
IU
Vitamin C :
2
mg
Calcium :
11
mg
Iron :
1
mg
*These Nutritional Values have not been evaluated by the Food and Drug Administration