Traditionally, Claypot Chicken Rice requires the usage of the earthware – clay pot to cook this rice dish. The earthenware has two purposes, maintain a balance all-rounded temperature as well as absorbing excess water that gives the bottom a charred rice base. Fortunately, all this is possible with a rice cooker, where you too can cook a good Claypot Chicken Rice at home!
Claypot rice is created by the Cantonese people from Southern China and now has become a popular rice dish across Southeast Asia, especially Hong Kong, Malaysia, and Singapore. The rice is usually presoaked and then finished cooking in a claypot over a charcoal stove, topped with other ingredients and sauces.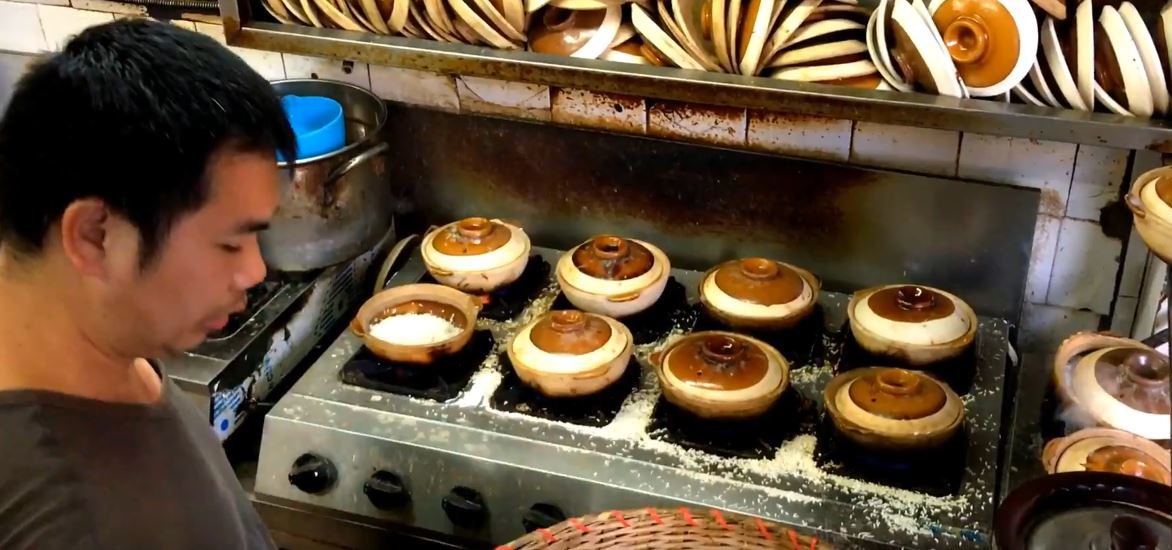 Do you know we can actually cook Claypot Chicken Rice at home without using a claypot? The answer is yes, you can. Instead of buying a claypot to cooking the rice with the claypot, not knowing how to control the temperature of cooking with a claypot, under-cooked rice, burned rice and the list goes on. Worry not! Simply use your rice cooker, you could actually mimic the similar process of claypot chicken rice with a rice cooker! Here is how you do it!
Claypot Chicken Rice Recipe with a Rice Cooker
It is possible to use a rice cooker to mimic the cooking process of a claypot chicken rice. If you are using a manual rice cooker, simply use a clip to force the rice cooker to continue cooking!
Ingredients
1

pcs

Whole Chicken Leg

1

knob

Ginger

(1 inch)

5

clove

Garlic

4

clove

Shallot

1

tbsp

Oyster Sauce

1

tbsp

Fish Sauce

1

tbsp

Soy Sauce

1

tsp

Thick Soy Sauce

2

tbsp

Shao Xing Wine

1

cup

Rice
This is a free content
I have to run Ads
Instructions
Preparation
Clean and chop chicken into bite-size.

Peel and finely chop ginger, garlic, and shallot together. Or simply use a blender or food processor.

Add a pinch of salt into blended ginger, garlic, and shallot. Thoroughly mix the salt in.

Use your hand and squeeze the juice from blended ginger, garlic, and shallot. Put aside the ginger, garlic, and shallot.

Add oyster sauce, fish sauce, soy sauce, thick soy sauce, and Shao xing wine into the juice and mix well.

Add chopped chicken into the marinade and let marinate in the refrigerator until the rice is cooked.

Fry the squeezed ginger, garlic, and shallot to golden. Strain and leave aside.
Cooking
Rinse rice with tap water and add water in accordance with the package's instruction. (See tips below on how to cook rice)

Cook the rice with the rice cook in a regular setting.

Once the rice is cooked, place marinated chicken on top of the cooked rice and pour 5 tbsp of the marinate into cooked rice.

Set rice cooker to regular cooking and cook for

10 minutes

.

In a heap, add fried ginger, garlic, and shallot on top. Keep covered and cook for another

5 minutes.

Remove rice from rice cooker and serve.
Video
Notes
Tips
Different type of rice will require different measurement of water. However the general rule of thumb for cooking rice is 1 portion of rice with 1 portion of water.
Nutrition
Calories :
288
kcal
Carbohydrates :
60
g
Protein :
7
g
Fat :
1
g
Saturated Fat :
1
g
Cholesterol :
1
mg
Sodium :
1105
mg
Potassium :
232
mg
Fiber :
2
g
Sugar :
3
g
Vitamin C :
4
mg
Calcium :
39
mg
Iron :
1
mg
*These Nutritional Values have not been evaluated by the Food and Drug Administration