Mantou in other words is Chinese Steamed Bun, popular in Northern China (each region has its own cuisine type). For example, Shandong, Hebei, etc – their carbohydrates staple is mantou. Whereas some parts of China are hand-pulled noodles, but usually rice as the main carbohydrates diet staple.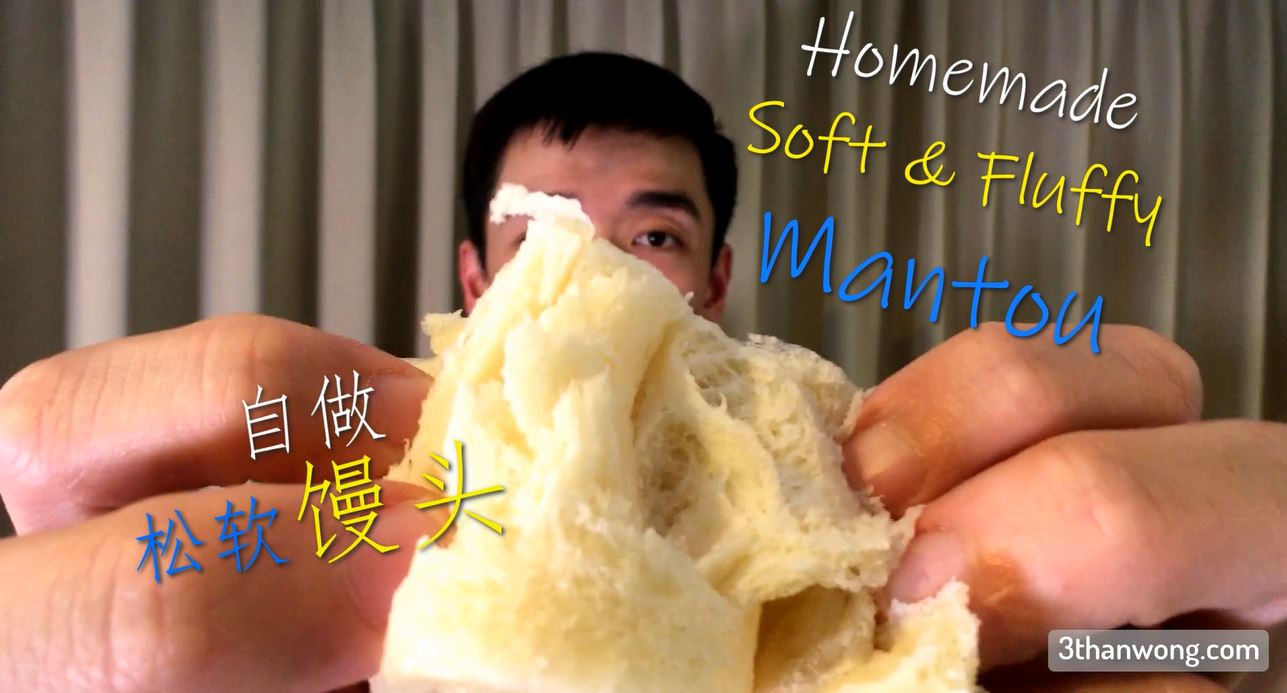 Mantou "馒头", initial translation translated as "barbarian's head" (蠻頭) which eventually evolved into the modern "馒头". It was said that that the word "mantou" came from the era of the Three Kingdom when Zhuge Liang and his army met with a swift-flowing river that defied any attempt to cross it.
A barbarian warlord advises him that they would sacrifice men and threw their heads into the river to appease the river deity to allow them to cross. As Zhuge Liang does not want to sacrifice any of his men, he has all his livestock slaughtered that the army was brought along. Made buns shaped similar to human heads and filled with meats. These buns were then thrown into the river and eventually they cross the river successfully.
Making Mantou Recipe at home is much simpler than you could ever imagine!
A similar bun is a baozi. Mantou is the more common word, and in certain districts, (for example, the Jiangnan area of China, and Korea) mantou (or the equal neighborhood perusing of the word) can be utilized to demonstrate both the filled and unfilled buns, while in Japan they are known as "manjū" alludes just to filled buns.
They are made with processed wheat flour, water, and leavening agents such as self-raising flour or yeast. In terms of size and texture, they are delicate, soft, and fluffy. White mantou used to be an exquisite food during the pre-industrial era, as the process of processing white flour used to be expensive. In the modern world, they are regularly sold pre-cooked in the frozen segment of Asian Supermarkets, simply steam or reheat in the microwave.
There are two methods of making Mantou
Using aged dough

Traditionally, an aged dough are used as an activator to rise the dough so the mantou would be fluffy, soft, and delicate, but they do take extra time to prove as well as extra effort in taking good care of the aged dough.

Dry Yeast

In the modern days, things got a lot easier as we now have a quick rise yeast and this way we save a lot of time! More importantly, there is no need to take care of an aged dough.
Previously I posted a video of homemade mantou in China and some of you requested me to make one video of how to make mantou. Most commercially produce mantou in the supermarket are made with self raising flour and baking soda – they usually stick to your teeth when you take a bite. Hence the best thing about homemade mantou is they doesn't stick to your teeth and the flavor is much more richer! You asked, here it is!
Chinese Steamed Bun Recipe - Healthy Homemade Mantou
This mantou recipe will not fail you, a very simple and straight forward recipe. I prefer to substitute milk with water as I find that would further remove the flavor of the flour. You can adjust to your personal preferances!
Ingredients
2

cups

All Purpose Flour

(or medium protein flour)

1

cup

Fresh Milk

(optional water)

1

tsp

Yeast

(Quick Raise)

2

tbsp

Sugar

1/3

tsp

Salt

2

tbsp

Oil

Parchment Paper / Large Tart Paper Cup

( 4″ x 3″ with both side folded)
This is a free content
I have to run Ads
Instructions
Lightly reheat milk to lukewarm and add yeast, sugar and salt.

Mix well and set aside for

10 minutes

or until the yeast has activated.

In a mixing bowl, add all purpose flour, milk mixture and oil.

If your have a mixer, simply use the dough function and mix it until they come together as a dough.

Otherwise, begin mixing them with your hands or a fork.

When the flour has absorbed all the liquid, begin kneading.

Knead for about 10 – 15 minutes.

If the dough is too wet, add more flour, or if it is too dry, add more milk.

Cover the dough with a damp cloth or a cling film.

Let the dough proof in a warm area for

45 minutes

or until it double in size.

Once proofing is done, flour your working surface with all purpose flour.

Transfer dough onto the floured surface.

Use a rolling pin or simply just your palms to gently flatten the dough into a square or a rectangular sheets of about 0.5 cm thick.

Roll the sheets into a rolls and then roll it into an even longer rolls.

Cut dough into a few pieces, the size of a mantou.

About 2 inches width. Gently pull it to shape it into mantou shape.

Transfer them individually onto parchment paper or tart paper cup.

Proof them in an enclose warm area for

45 minutes

.

If you have an oven, simply proof them in the oven with the light bulb turn on and a bowl of hot water.

Steam them for

20 minutes

.
Video
Nutrition
Calories :
451
kcal
Carbohydrates :
75
g
Protein :
11
g
Fat :
11
g
Saturated Fat :
1
g
Sodium :
262
mg
Potassium :
127
mg
Fiber :
3
g
Sugar :
8
g
Calcium :
13
mg
Iron :
4
mg
*These Nutritional Values have not been evaluated by the Food and Drug Administration