A good Cheung Fun recipe has to be able to make thin sheets of rice batter with layers that are silky smooth and stay as whole. Cheung Fun, in other words, is rice noodle roll, basically is a thin layer of solidified rice batter, I tested my recipe a couple of times in order to get the perfect ratio, so you too can do the same at home. In Malaysia, it is commonly known as Chee Cheong Fun!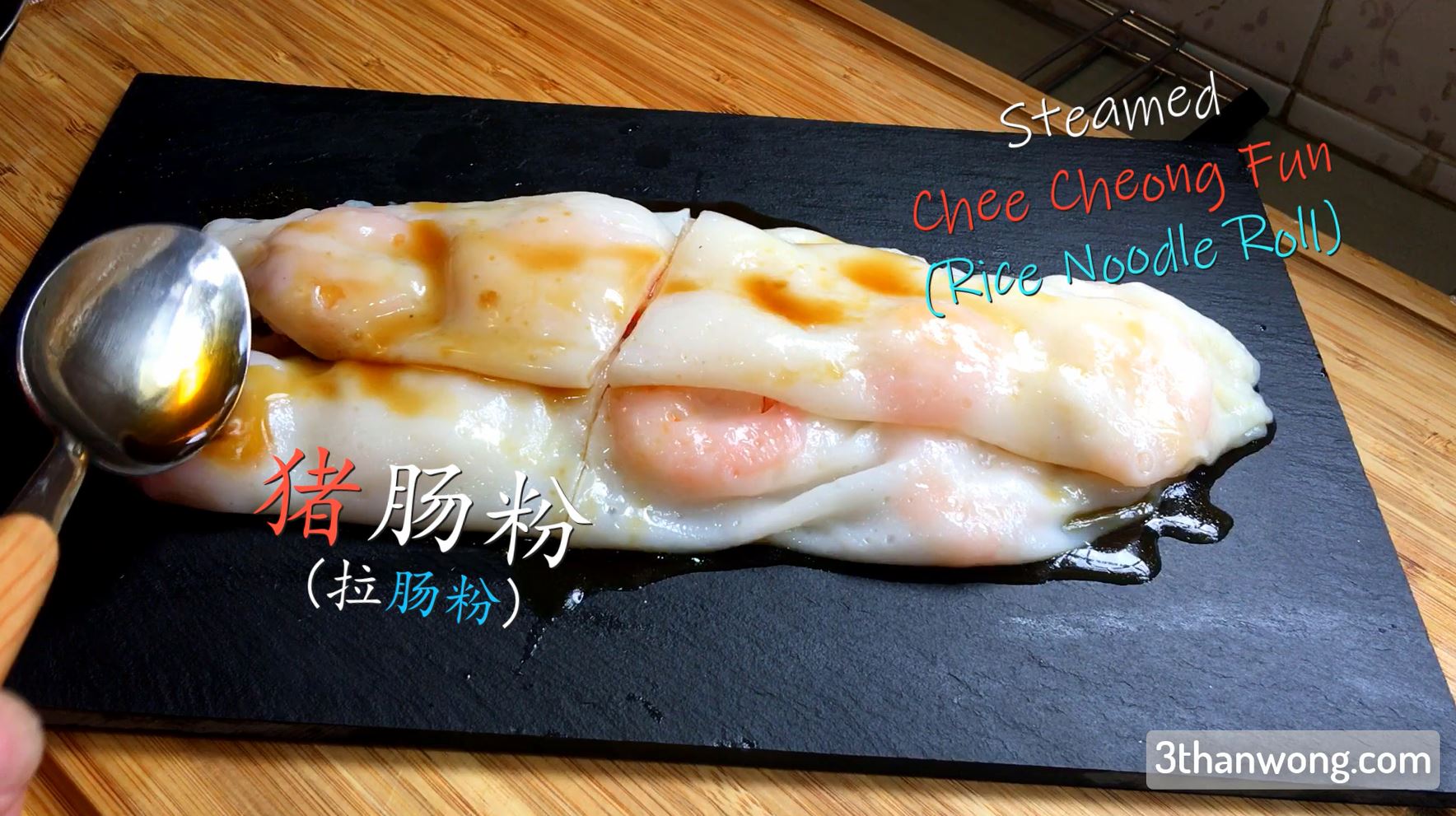 Cheung Fun, Hor Fun and Shahe Fun? Are they not the same?
Basically, cheung fun, hor fun, or shahe fen, they are all rice noodle roll, all produced using the same steaming process. What makes them different is the application of the rice noodle roll. In general, they can be categorized by;
Dim Sum type

Delicate, thin and silky smooth, meant to be enjoyed some fillings, usually shrimps.

For soup noodle

Delicate, slightly thicker than the dim sum type, still silky smooth and usually made thin

For stir-frying

Thick and chewier, made for stir-frying, does not break easily.
Getting the Rice Ratio right
The major ingredients for Rice Noodle Roll are rice flour, in China, specialized breakfast seller actually does make their own rice flour by milling their own selection of rice grain, hence others are not able to copy their recipe.
So, the closest thing I can do is to do trial and error on the ratio. I actually did spend some time in testing out the different type of flour in order to figure out what would be the best ratio of flour so anyone who stumbles upon my recipe could follow suit, below is the recipe that I have tried and works.
Chee Cheong Fun (猪肠粉), literally translates to "pig intestine noodle" owing to it looks like pig intestine but not used any part of offal to make it. Chee Cheong Fun aka Steamed Rice Noodle is one of the most common staples amounts the Chinese ethnic (Paper thin Rice Noodle Roll in Guangzhou steamed with bamboo tray). There are plenty of so-called secret recipes for it but the core ingredient is nevertheless – rice flour and water. I got pretty curious and had some fun time trying it out. It took me 3 trial-error in order to get this result in the video. Check it out!
Rice Noodle Roll - Hong Kong Cheung Fun Recipe
The core ingredient is rice flour and water. It took me 3 trial-error in order to get the result in the video. You can also fill it with any sort of fillings of your choice like, beef, chicken, mushroom, etc. Have fun!
配料
1

杯

Rice Flour

1

茶匙

木薯粉

2

杯

水

食用油

(to grease the tray)

12

件

Shrimp

(deshell)
这是一篇免费的文章
我必须投放广告
步骤
With a mixing bowl, add rice flour, tapioca flour, and water. Thoroughly mix until all the flour has dissolved.

Bring the steamer to a full boil, then preheat the tray for

1 minute

.

Remove tray from steamer and brush a layer of oil on the tray.

Scoop the rice batter into the tray with just enough rice batter to cover all the areas.

Bring the tray back to the steamer and slowly spread the rice batter as you move the tray.

Once the rice batter begins to set, keep covered and steam for

2 minutes

.

After 2 minutes, remove the cover and add fillings. Continue steaming for 3 minutes.

With a flat scraper, grease it with cooking oil then gently lift up the cooked rice batter and roll it rolls.

Gently transfer to a plate.

For the remaining ingredients, repeat steps (2) to (10).

Serve with soy sauce mixture, hoisin sauce, sweet bean sauce, chili sauce, etc.
视频
笔记
提示
You will notice the technique is different than what you usually see in a dim sum house, due to they use a cloth as a tray and the steam can penetrate directly which does not require the greasing-the-tray-step. Due to oil on the tray, the rice batter is much difficult to stay put hence the differences in technique.
Ratio wise for rice batter is 2 (water) : 1 (rice flour)
I added tapioca flour as it does slightly increases the starch content which improves the elasticity of the end result.
营养
卡路里 :
302
大卡
碳水化合物 :
65
克
蛋白 :
6
克
脂肪 :
1
克
饱和脂肪 :
1
克
胆固醇 :
15
毫克
钠 :
58
毫克
钾盐 :
61
毫克
纤维 :
2
克
糖 :
1
克
钙 :
24
毫克
铁 :
1
毫克
*这些营养价值没有经过食品和药物管理局的评估。