Cauliflower Stir Fry is a very easy vegetable dish that anyone can cook at home. It is also one of my preferred vegetables of choice, aromatic and flavorful cauliflower stir fry. There are a few important elements to take note of when cooking this dish, which I think many did not follow the proper method to do so. Read on to find out!
What are the Elements to take note?
Well, as we all know that cauliflower is a type of vegetables that has a high content of moisture and it is a very common practice that we would blanch the vegetables prior to stir-frying. However, this is not the proper method to cook a Cauliflower stir fry.
Instead, in Chinese restaurants in China, not a drop of water is added for this vegetable dish. Why?
Because salt is added, and salt would draw the water content out of the cauliflower. While moisture content is reduced from the cauliflower, this makes the cauliflower becomes more crunchy and slightly chewy, which makes the texture so great!
Yes, Cauliflower Stir Fry is one of my favorite side dishes whenever I visit China. They are almost available everywhere. 干锅花菜 pronounced as gān guō huā cài, literally means "dry pot" cauliflower because there is no water added to cook the cauliflower. In a big Chinese restaurant, the cauliflower is quick-fried to hasten the cooking process, given that they have a large amount of frying oil where it is not usual practices for regular home cooks. So here I slightly modify the cooking method to suits the common practices of most home cooks!
Stir Fry Cauliflower Easy Chinese Recipe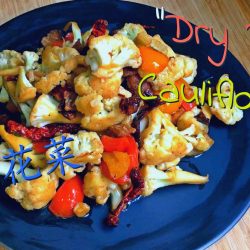 The proper method to cook a Cauliflower stir-fry is not to add a drop of water, why? In Chinese, it is called, "dry pot" cauliflower, which means dry stir-frying. Since cauliflower is high in moisture content, the salt will drain water out and makes the cauliflower crunchy.
Ingredients
1/2

pcs

Cauliflower

200

g

Pork Belly

1

head

Garlic

1

handful

Dried Chili

1

pcs

Red Capsicum

1

pcs

Orange Capsicum

2

tbsp

Cooking Oil

1

tbsp

Salt

2

tbsp

Soy Sauce
This is a free content
I have to run Ads
Instructions
Preparation
Clean and cut cauliflower into a spear.

Remove pork belly skin and thinly slice them.

For dried chili, use a strainer and shake off the dust.

Cut red and orange capsicum into a square.

Prepare the other ingredients.
Cooking
Preheat pan/wok with cooking oil.

Add sliced pork belly in and shallow fry over medium heat. Fry until pork belly turns crispy.

Remove crispy pork belly.

Add crushed garlic and shallow fry to golden.

Add dried chili and fry dried chili to golden.

Add red and orange capsicum. Thoroughly stir fry.

Add spear cauliflower and thoroughly stir fry.

Thoroughly stir fry then keep covered for

60 seconds

.

Repeat step (11) for approximately 10 minutes or until the cauliflower becomes soft.

Remove from heat and serve.
Video
Notes
Cooking tips
You can use other types of ingredients for the colors to replace capsicum such as broccoli, onion, or even mix with some shrimps.
Nutrition
Calories :
450
kcal
Carbohydrates :
4
g
Protein :
8
g
Fat :
45
g
Saturated Fat :
14
g
Cholesterol :
48
mg
Sodium :
3019
mg
Potassium :
186
mg
Fiber :
1
g
Sugar :
1
g
Vitamin A :
88
IU
Vitamin C :
4
mg
Calcium :
17
mg
Iron :
1
mg
*These Nutritional Values have not been evaluated by the Food and Drug Administration