I always like a bowl of thick beefy and full of tomato flavors. There is plenty of tomato beef noodle soup out there especially in the Asian region like China and Taiwan, and yes, they do have a lot of Beef Noodle Soup restaurants all over. But I don't seem to be able to find one that makes really thick tomato flavors while maintaining the aromatic beefy flavor which I enjoy very much.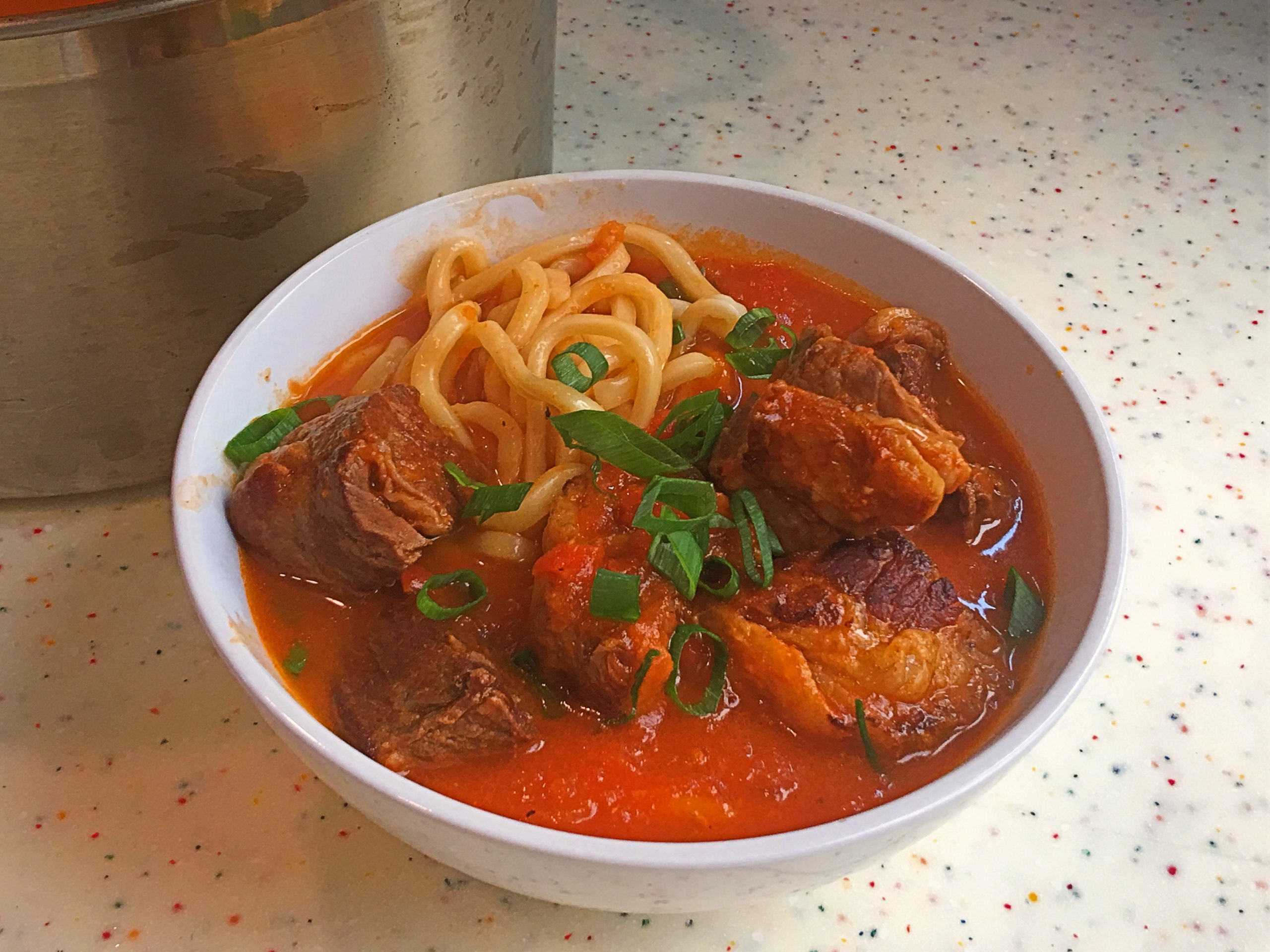 HaiDiLao Tomato Soup as an idea ~
So my hunt for the perfect tomato-rich soup with intense beefy flavor begins. When I was thinking how should I cook this tomato beef soup that pairs well with noodles?
Instantaneously, I thought of HaiDiLao HotPot which I love their tomato soup a lot! Their tomato soup is super thick! Rich! and full of tomatoes! Well, let's stop praising them for a while and get into the main content.
Wholesome Tomato Beef Soup with 100% Tomato!
With that in mind, I was trying to recall every detail of the HaiDiLao Tomato Soup I had in Guangzhou but there are utterly many missing pieces. As my desired to make the soup grew more, the frequency of my visit to HaiDiLao increases.
So on my next visit to HaiDiLao Hot Pot, I would order their Tomato Soup (even today, love it!) and I would inspect them whatever ingredients I could see from my naked eyes and to remember the taste, flavor, and texture of the soup.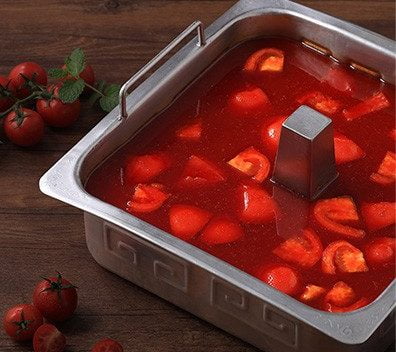 What is in HaiDiLao Tomato Soup?
Well, obviously there are chucks of tomatoes floating on top but in order to make tomato soup as thick as this, the major ingredients are going to be tomato paste. What comes along would be MSG, chicken powder that sort of seasoning. To find out more, I went to check on the ingredient list of their prepacked tomato soup base. the ingredient list;
Tomato Paste
Sugar
Salt
Water
Vegetable Oil
Onion
MSG
Ginger Pickles
Chicken Seasoning Powder
and the rest are additives meant to stabilize the packed soup base.
Wholesome Tomato Beef Soup with 100% Tomato!
Now having to know the major elements for flavorful, thick tomato soup, it is time to put the puzzles together. Knowing that the thickness of the soup came from tomato paste, I work on curating the recipe with tomato paste as a foundation.
To further enhance the flavor, we could add bay leaf, replace onion with shallots, add garlic (why not right?), and remove all those artificial flavorings. Who needs flavor enhancer when you are using fresh beef?
I had tested this recipe and even given them to my friends, and they absolutely love it! Here I am sharing this recipe with you all ~
I've always like a bowl of delish tomato beef noodle soup, but somehow a lots of tomato beef soup out there, I personally think they are too light, the tomato flavor isn't thick enough. So what I do is, whenever I visit Haidilao hot pot I would pick their tomato soup base, order their hand pulled noodles and bring myself a bowl. Blanch the noodle well, scoop plenty of tomato soup and top it up with their minced beef from their sauce station – Love it! Their tomato soup is absolutely delicious. So with this idea, I wanna recreate this bowl but with huge chunk of beef that is tender. And here is what I did, check it out!

p/s: this is going to be a killer comfort food!
Tomato Beef Soup Noodle Recipe [HaiDiLao Tomato Soup]
I work on curating the recipe with tomato paste as foundation. Use fresh beef to given your soup an intense beefy aroma! I had tested this recipe and even given them to my friends, and they absolutely love it! Here I am sharing this recipe with you all ~
Ingredients
Tomato Beef Soup
500

g

Tomato

340

g

Tomato Paste

(1 small can)

4

clove

Garlic

2

bulb

Shallot

3

part

Water

(1 part tomato : 3 part water)

2

pcs

Bay Leaf

(optional)

to taste

Salt

4

tbsp

Cooking Oil
Beef
500

g

Tender Beef

(I uses Chuck Short Ribs, other tender parts is fine as well, ask your local butcher)

2

tbsp

Sugar

1

tsp

Black Pepper

1

part

Water

(1 part Tomato : 1 part Water)

2

tbsp

Cooking Oil
This is a free content
I have to run Ads
Instructions
To Cook Soup
Blend fresh tomato into puree and put aside.

Blend garlic and shallot into paste.

Add a little water to blend them into smooth paste.

Preheat a stock pot with cooking oil.

Add garlic and shallot paste and sweat them to cook away the rawness.

Add tomato puree and briefly saute them.

Add water and tomato paste.Bring to boil and then reduce to a simmer.
To Sear Beef and Simmer
Cut beef into 1.5 inches cubes.

To sear beef, preheat pan with cooking oil to high heat.

Add beef and sear all side of the beef to brown.

Add sugar and black pepper.

Caramelized the sugar while the black pepper releases its aromatic oil.

Transfer them all into the simmering tomato soup.

After 1.5 hours, season the soup with salt to taste.
Video
Notes
Serve with noodles – hand pulled noodles, udon, ramen, etc, and in a heap, sprinkle some chopped spring onion on top.
Nutrition
Calories :
868
kcal
Carbohydrates :
38
g
Protein :
37
g
Fat :
65
g
Saturated Fat :
17
g
Cholesterol :
117
mg
Sodium :
987
mg
Potassium :
2067
mg
Fiber :
7
g
Sugar :
26
g
Vitamin A :
3158
IU
Vitamin C :
49
mg
Calcium :
82
mg
Iron :
8
mg
*These Nutritional Values have not been evaluated by the Food and Drug Administration