Often we see silky smooth steamed egg done by restaurants, the Japanese famous steamed egg – Chawanmushi. They are smooth and without any rough surface even if they are kept for long hours in the steamer. And you face challenges like the steamed egg surface become rough in under 5 minutes, their secret? Is to control the steaming temperature!
This method also works for Chawanmushi!
Temperature Effect on Eggs
Eggs are temperature sensitive ingredient, here is what would happen to egg (without adding water) on different temperature range;
| | | |
| --- | --- | --- |
| Temperature | What happens | Egg Dish |
| 59°C (138°F) | This temperature does not coagulate the egg but good enough to terminate salmonella. | Pasteurized Egg, like what you buy on the supermarket shelf. |
| 60°C (140°F) | Eggs begin to show coagulation | Hold cooked eggs and egg-containing foods hot |
| 62°C (144°F) | Whole egg coagulate (whisked egg) | Meringues, poached eggs |
| 65°C (149°F) | Egg yolk coagulates | Scrambled eggs, fried eggs over easy, over hard, egg white omelet and basted. |
| 70°C (158°F) | Egg white coagulates | Scrambled eggs, fried eggs over easy, over hard, egg white omelet and basted. |
| 71°C (160°F) |   | Hard-boiled egg |
| 71°C (160°F) + | Moisture is being forced out of the egg and starts becoming dry. An extended period of time will make it become rough and rubbery. |   |
As you can see from the table that eggs are very sensitive to temperature and we have to cook them with extra care. (Learn how to cook 9 more types of egg dish here)

Worry not, Steamed Egg is Another Story
We will be increasing the volume of the egg by adding water, so the egg will not overcook so easily. BUT, they are still very delicate to temperature, hence I am sharing this simple trick with you on how to steam silky smooth egg at home without any fancy thermometer.
The trick is to leave a gap with the cover, do not fully close the steamer to allow excess steam to escape. This way, the steam temperature would not be too hot to the egg and you are guaranteed to get a silky smooth temperature. I did this thousand of time and it worked every time.
When I was a kid, my parents have always made me steam eggs. Sometimes it is steamed nice and perfect, jiggly, and smooth. Sometimes they are rough and completely dry. So I did my homework to find out what causes that and how do we make the best steam egg that is smooth and melt in your mouth. Check this out for a fail-safe steam egg technique!
How to Steam Egg like a Masterchef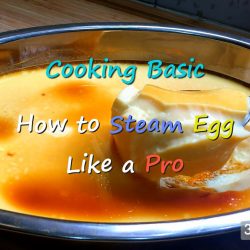 This method guarantees you with a silky smooth steamed egg that would amaze everyone on your dining table! Remember to bring the water to a boil then reduce it to a simmer, leave a gap, and NEVER fully closed the steamer!
Ingredients
4

nos

Eggs

Water

(equal parts to eggs)

to taste

Salt
This is a free content
I have to run Ads
Instructions
Preparation
Crack the egg into a mixing bowl.

Thoroughly whisk it and then add salt.

Continue to whisk until all the salt has dissolved.
Steaming
Bring your steamer to a full boil then reduce to a simmer.

Plate a flat-bottom deep plate into the steamer.

Then use a strainer and pour the eggs in as you sieve away the bubbles.

Cover and leave a gap for excessive steam to escape.

Switch off the heat and remove steamed eggs from the steamer.

Serve with sauces or condiments of your choice
Video
Notes
Tips
Never steam your egg in a full boil, that would cause eggs to overcook.
Use a fine-mesh strainer to better remove the bubbles. Bubbles will cause an uneven surface after the eggs are cooked.
Nutrition
Calories :
3
kcal
Carbohydrates :
1
g
Protein :
1
g
Fat :
1
g
Saturated Fat :
1
g
Cholesterol :
7
mg
Sodium :
3
mg
Sugar :
1
g
*These Nutritional Values have not been evaluated by the Food and Drug Administration