A good bowl of Sweet Potato Dessert lies in the quality of the sweet potatoes as well as the composition of the ingredients. My late mother has always liked to make sweet potato dessert back then when I was a kid, in additional to sweet potato, there is another type of root vegetables that you will need to include to enhance the overall flavor of this dessert, read on!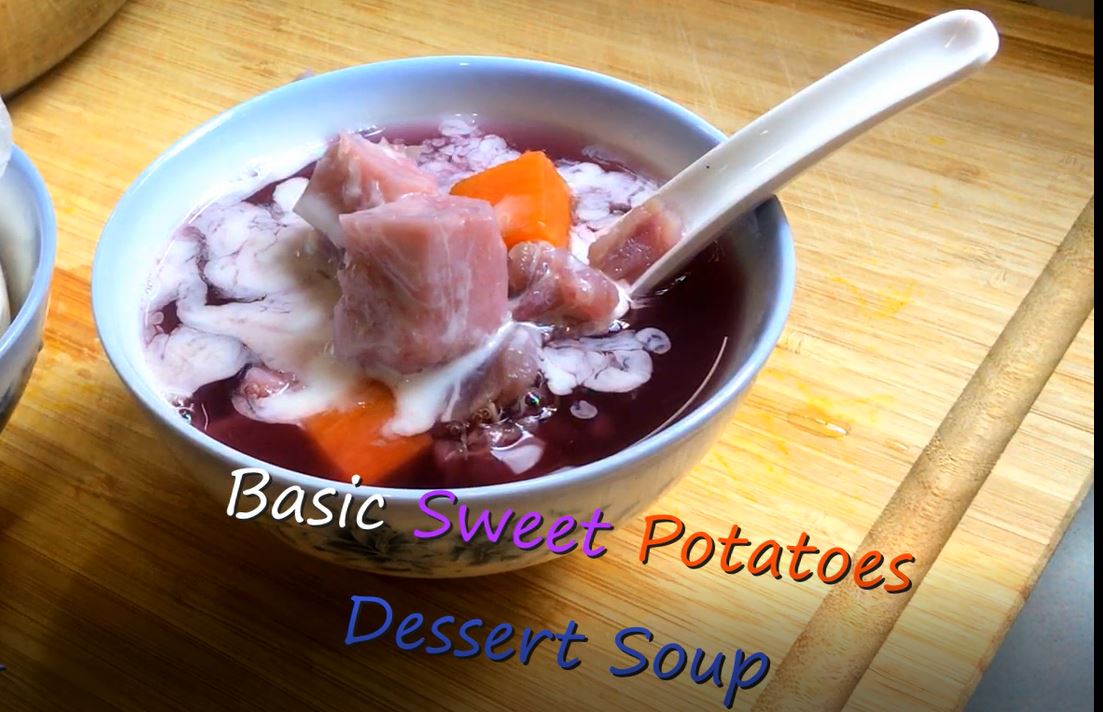 A little about Sweet Potatoes
Sweet Potato is a type of root vegetable (read about the different types of vegetables). We will be using the purple and orange-colored sweet potato. The orange variety of sweet potato is instead called a "yam" in some parts of North America, whereas Yam in Asia is very different than Sweet Potatoes.
From my experience, the best tasting sweet potatoes are crowned from Japan, they taste absolutely sweet, fragrance, and not to forget they are pretty costly too. If money is not an issue, try to opt for Japanese Sweet Potato for the best outcome of this dessert.
Sweet Potato Dessert - Basic Recipe
This is a basic Sweet Potato Dessert recipe, but just to be clear, this is an Asian style Sweet Potato Dessert, not a pie or cake, it is a soup dessert, where we drink it. Rich in sweet potatoes flavor and I had created another 3 recipes to go with this sweet potato dessert!
Ingredients
700

g

Purple Sweet Potato

500

g

Jewel Sweet Potato

(Orange flesh)

400

g

Yam

Water

((2 part Water) : (1 part Sweet Potato & Yam))

1

pkt

Coconut Milk

1

knot

Pandan Leaves

(optional)

1

tsp

Salt

300

g

Sugar
This is a free content
I have to run Ads
Instructions
Preparation
Simple peel and cut them into uniform cubes. Put them in a cooking pot with water.
Cooking
Bring the water to a boil then reduce to a simmer.

Serve on a bowl with a dash of coconut milk.
Video
Nutrition
Calories :
512
kcal
Carbohydrates :
121
g
Protein :
5
g
Fat :
1
g
Saturated Fat :
1
g
Sodium :
483
mg
Potassium :
903
mg
Fiber :
6
g
Sugar :
65
g
Vitamin A :
110
IU
Vitamin C :
14
mg
Calcium :
14
mg
Iron :
1
mg
*These Nutritional Values have not been evaluated by the Food and Drug Administration